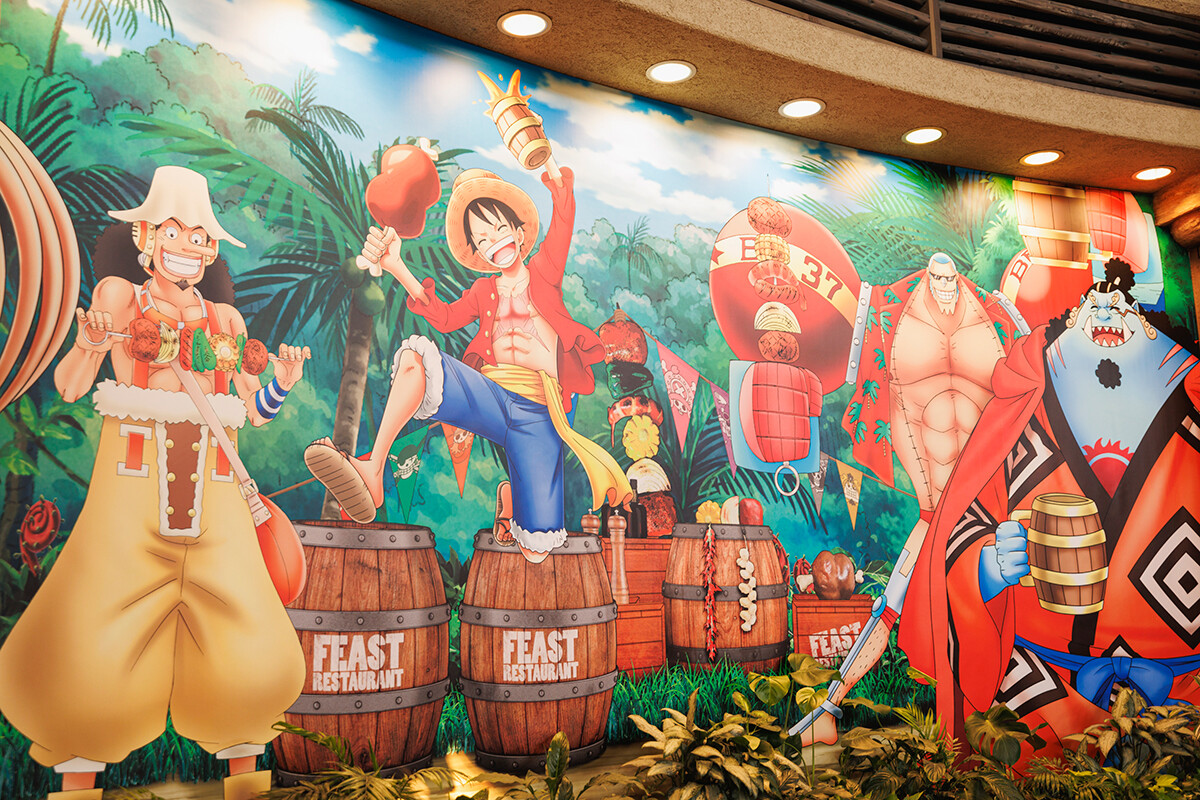 Universal Studios Japan (USJ) is holding the event, 'ONE PIECE Premier Summer,' in collaboration with Eiichiro Oda's 'ONE PIECE' until Tuesday, October 10.
This limited-time event can be enjoyed by people of all ages. There's not long left of the event now, so for those who are yet to experience it, here's a rundown on the story-coaster, the merchandise, food, and more, which all tie in with the world of 'ONE PIECE'!
The first place to check out in the park is Beverly Hills Gifts, a store selling merchandise made in collaboration with 'ONE PIECE.' Being located right next to the entrance, it is often the first port of call for many visitors.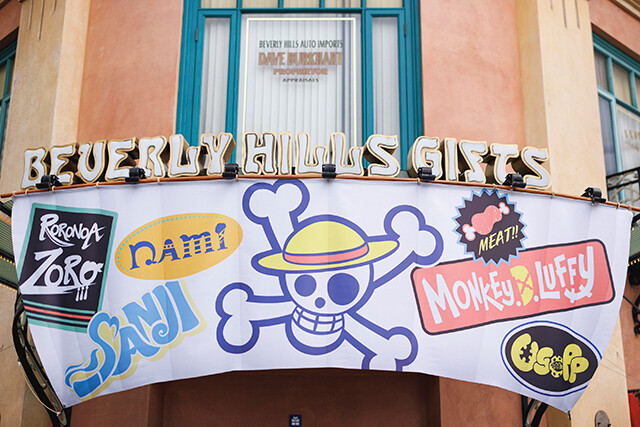 Beverly Hills Gifts after its Straw Hat Pirates makeover
There is a whole array of limited-edition merchandise in store, but the hugely popular 'NAKAMA Towel,' inspired by the Straw Hat Pirates, is the must-have item of the 'ONE PIECE Premier Show 2023.' Not only is this towel used in the staging to create a sense of unity during the show, but the design is also perfect for everyday use. This is definitely a must-have.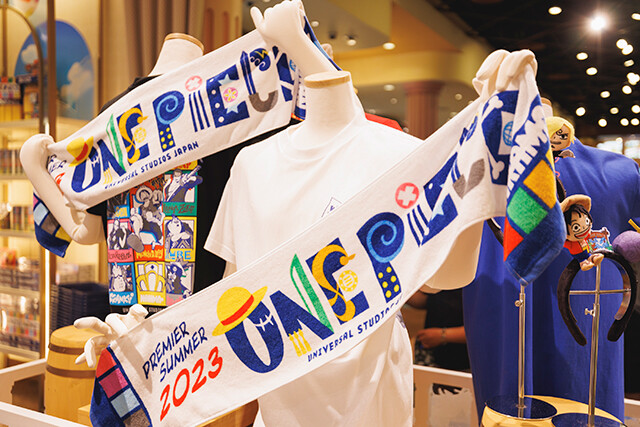 The 'NAKAMA Towel' is the most popular item
Of course, the store sells the ever-popular Luffy, Zoro, and Sanji 'wanted poster' T-shirts along with head bands adorned with different characters, and it is not uncommon to find people collecting the complete range of merchandise on offer. They also sell straw hats so you can feel like Luffy, and a towel that resembles the Marine coat with the word 'justice' on the back in Japanese and has a cooling collar.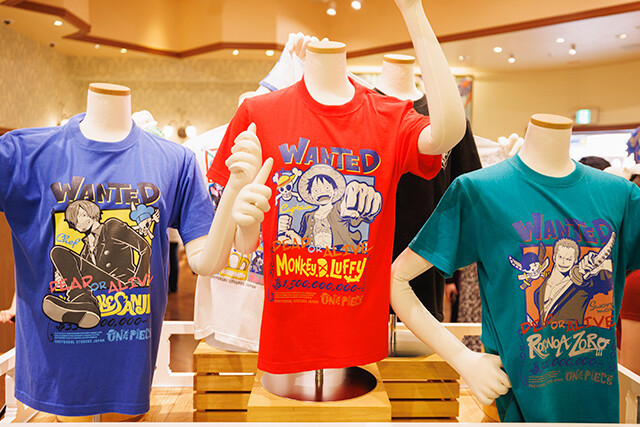 Luffy, Zoro, and Sanji's bounty amounts are on these T-shirts!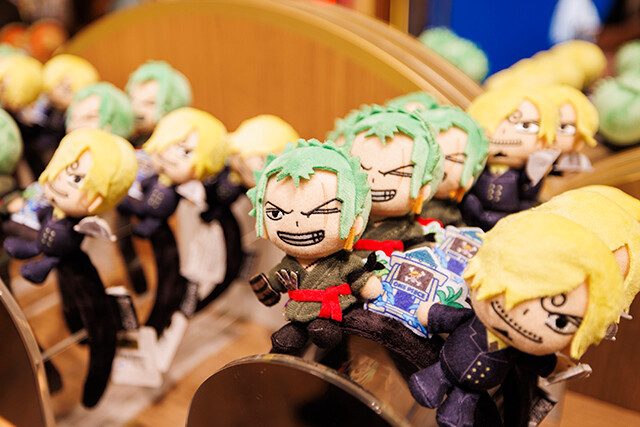 These head bands are worn by many guests in the park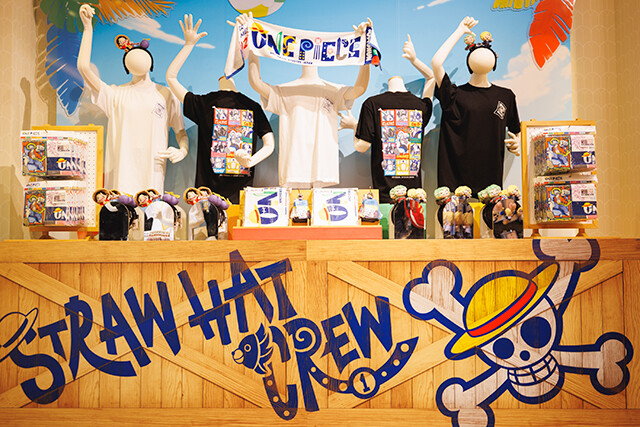 Most of the items are limited edition collaborative merchandise. Don't miss out!
After donning the items purchased from the store, make your way to the ride attraction 'Hollywood Dream - The Ride .' This collaboration with 'ONE PIECE' was first launched last year and is back again due to popular demand.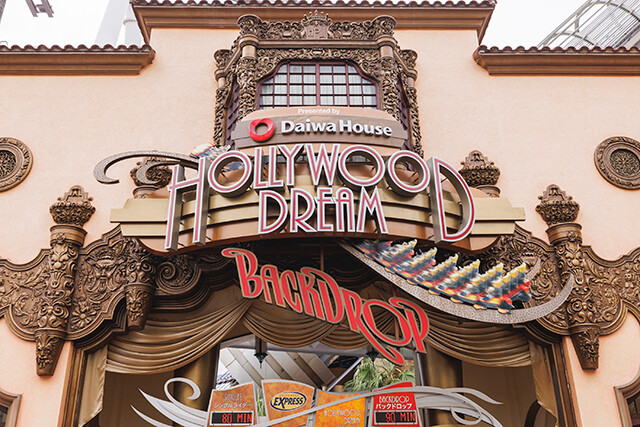 The hugely popular attraction, 'Hollywood Dream - The Ride'
It is named 'ONE PIECE x Hollywood Dream - The Ride: Escape the Marines! The Fire Fist Strikes! ' Guests can have an exhilarating roller coaster experience as they listen to an original story recorded exclusively for this collaboration.
In this scenario, guests ride a roller coaster which resembles a ship, and the Straw Hat Pirates, who have escaped the Smoker-led Marines, board the ship and cause a ruckus. I'll spare you from any spoilers so you can check it out for yourself, but you'll hear one voice after another that you are sure to recognize from the anime.
Not only do the anime characters enliven the ride, but the roller coaster's climatic points are synchronized with the storyline, making you feel as if you are adventuring across the vast ocean with Luffy and his crew.
Head over to Discovery Restaurant in the Jurassic Park area for a meal when you get hungry. The 'Straw Hat Crew's Feast Restaurant ' is open exclusively for this event.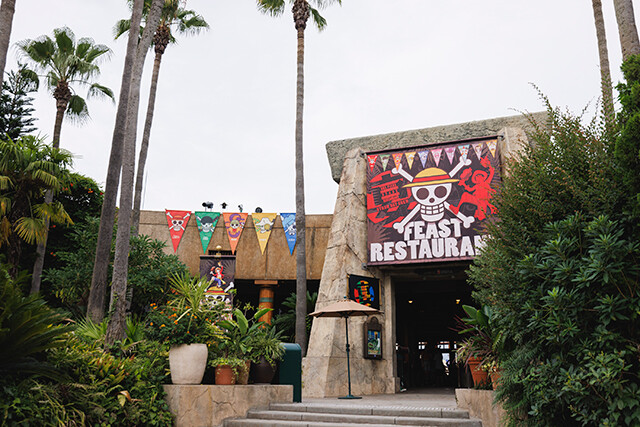 Walk through the jungle to get to the 'Straw Hat Crew's Feast Restaurant'
The restaurant is surrounded by a lush jungle, perfectly in tune with the 'ONE PIECE' vibe. In the restaurant where songs from the anime play in the background, you can feast on mouthwatering original BBQ dishes inspired by the Straw Hat crew.
'Luffy's Meaty Meat Plate ' is a hearty dish with a generous portion of Luffy's favorite food - meat. This dish is not as heavy as you may expect; the grilled beef steak is covered with a sauce containing pickles, making it surprisingly light. A lot of thought has gone into this dish, with the long sausage resembling Luffy's stretchy arms and the turmeric rice resembling his straw hat.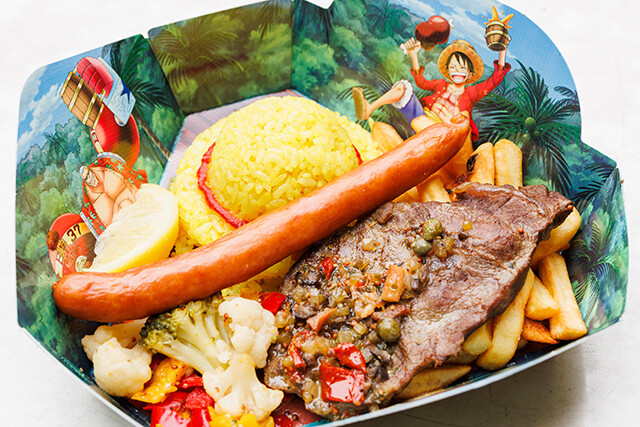 Grilled beef is the main part of 'Luffy's Meaty Meat Plate'
'Franky's American ☆ Chicken Plate' is an all-American dish, just like Franky himself. The bone-in chicken, asserting its presence on the plate, is covered with a sauce that contains cola, Frankie's favorite drink.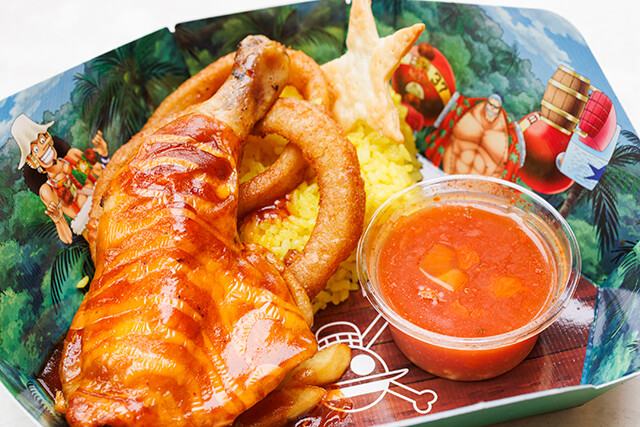 'Franky's American ☆ Chicken Plate' uses cola as its secret ingredient
'Usopp's Legendary Fish Plate' was inspired by Usopp's hat and the jungle where he trained, and the main part is his signature dish, fish and chips.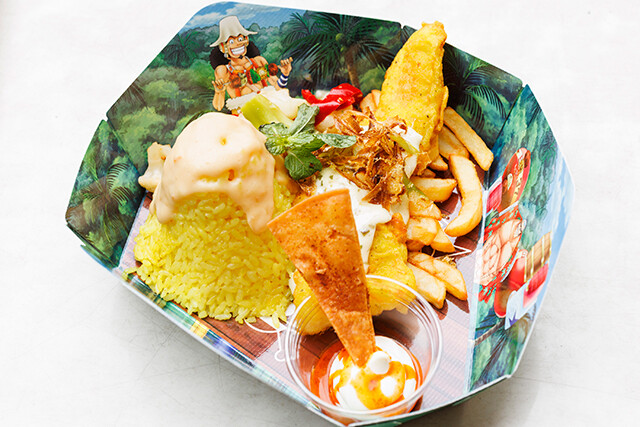 'Usopp's Legendary Fish Plate,' inspired by his signature dish
'Chopper's Exciting Kids Meal' is available for kids up to 11 years old. Chopper's character is expressed in the form of a hoof-shaped bread and hamburg steak marked with the X from Chopper's hat.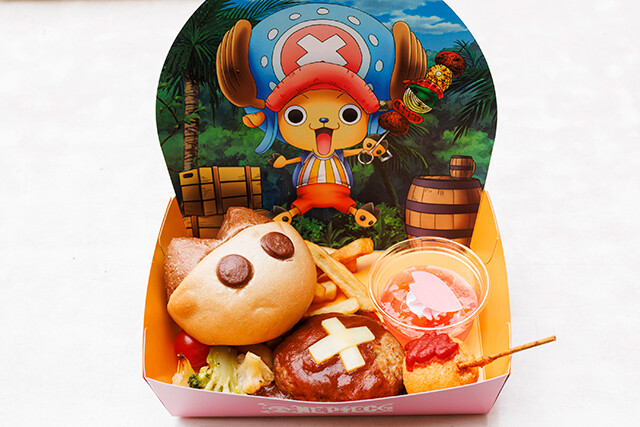 Chopper's Exciting Kids Meal
There are Luffy and Chopper 'Barrel Mugs,' which make great souvenirs. Chow down on these unique dishes with one of these mugs in hand, and you'll truly feel as if you're at a banquet!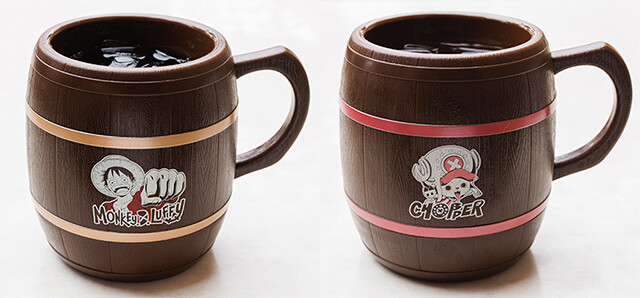 The 'Barrel Mugs' can be taken home once they're empty
In the park, there is also a 'ONE PIECE Food Cart' selling Sanji's specialty pork ribs and Nami inspired churritos, and Fossil Fuels serves Chopper and Robin's drinks, so you can immerse yourself in the world of 'ONE PIECE' all over the park. Come and have a tantalizing 'ONE PIECE' experience unique to USJ through the collaborative merchandise, food, and rides!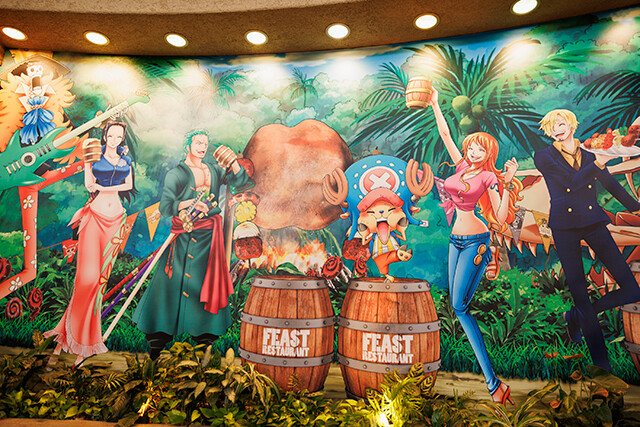 TM & ©Universal Studios. All rights reserved.
© Eiichiro Oda/Shueisha Inc., Fuji Television Network, Inc., Toei Animation Co., Ltd.
*Prices and designs, retail outlets, launch dates, and sales methods of merchandise and foods are subject to change without prior notice. Please note that some items may be sold out. Please check prices in the park.